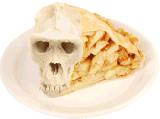 Why should they ask me to put on a uniform and go 10,000 miles from home and drop bombs and bullets on Brown people in Vietnam while so-called Negro people in Louisville are treated like dogs and denied simple human rights? ...If I thought the war was going to bring freedom and equality to 22 million of my people they wouldn't have to draft me, I'd join tomorrow. I have nothing to lose by standing up for my beliefs. So I'll go to jail, so what? We've been in jail for 400 years.
Muhammed Ali (1942-2016)
2019 Spelling Bee
Recorded: May 30th, 2019
Notes:
Normal speed. The three words the video focuses on are parochialism, horripilation and kentledge. Perhaps the producers had a certain someone in mind. MAGA today cataclysm tomorrow. The 2018 champion, Karthik Nemmani, spent 36 hours a week studying for the competition. Ouch!