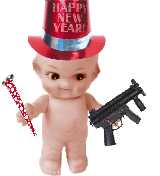 We will need writers who can remember freedom: poets, visionaries - the realists of a larger reality.
Ursla Le Guin (1929-2018)
National Book Foundation speech, 2014
This Week in History:
June 22nd - 27th
Test yourself:
Press the buttons to reveal the answers.
1
What closed in 1990 and how long was it open?
Check Point Charlie closed after 29 years.
2
Who concluded what in 1957?
The UK Medical research Council found that smoking could lead to lung cancer.
3
Who pleaded guilty to murdering whom in 181
Mark Chapman pleaded guilty to murdering John Lennon.
4
Who said what in 1963?
John F. Kennedy said, "Ich bin ein Berliner".
5
Who stormed what in 1993?
Neo-Nazi South Africans stormed the World Trade Center.
What the BBC ignored:
June 22 - 1987: Four years after the Falkands War the hand of God goal followed four minutes later by the goal of the century sees Diego Maradona's Argentina put England out of the 1986 World cup
June 22 - 2002: The 6.5 magnitude Bou'in-Zahra earthquake kills 261 people and injures 1,300 leading to public anger because of the slow government response
June 23 - 1991: Sonic the Hedgehog is released in the U.S.
June 23 - 2016: The United Kingdom votes in a referendum to leave the European Union, by 52% to 48%.
June 24 - 1916: Mary Pickford becomes the first female film star to sign a million-dollar contract.
June 24 - 2002: The Igandu train disaster in Tanzania kills 281, the worst train accident in African history.
June 24 - 2012: Lonesome George dies.
June 24 2017:  The World Health Organization declares the worst Cholera outbreak in the world estimating that Yemen has over 200,000 cases of cholera.
June 25 - 1947: The Diary of a Young Girl (better known as The Diary of Anne Frank) is published.
June 25 - 1975: Mozambique achieves independence from Portugal.
June 26 - 1960: Madagascar gains its independence from France.
June 27 - 1978: During the Russo-Japanese War, sailors start a mutiny aboard the Russian battleship Potemkin.
June 27 - 2007: Tony Blair resigns as British Prime Minister, a position he had held since 1997.
Would you have swapped any of the events above for any of the events chosen by the BBC?