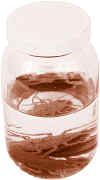 Many Japanese speak English. But they do not think our thoughts. They worship at other shrines; profess another creed; observe a different code. They can no more be moved by Christian pacifism than wolves by the bleating of sheep. We have to deal with a people whose values are in many respects altogether different from our own.
Winston Churchill (1874-1965)
The Mission of Japan, 1937
This Week in History:
September 14th - 20th
Test yourself:
Press the buttons to reveal the answers.
1
What happened in 1985?
Mexico City was devastated by an earthquake.
2
What stopped being used and why in 1981?
France stopped using the guillotine after abolishing the death penalty.
3
Who became what in 1975?
Elizabeth Seton became America's first saint.
4
Who died at what age in 1952?
Princess Grace of Monaco died aged 52.
5
Who went where after what in 1999?
UN troops went to East Timor after a vote for independence from Indonesia.
What the BBC ignored:
September 14 - 1960: The Organization of Petroleum Exporting Countries (OPEC) is founded.
September 14 - 2007: During the 2007-2008 financial crisis Northern Rock bank collapses after the first bank run in England for 150 years.
September 15 - 1947: Typhoon Kathleen hits the Kanto Region in Japan killing 1,077.
September 15 - 2008: Lehman Brothers files for Chapter 11 bankruptcy, the largest bankruptcy filing in U.S. history.
September 16 - 1976: The Tabas earthquake strikes in Iran with a Mercalli intensity of IX (violent) killing at least 15000.
September 16 - 1976: World Champion Armenian swimmer Shavarsh Karapetyan rescues 20 people from a crashed trolleybus at the bottom of Yerevan lake but ends his career.
September 17 - 1991: The first version of the Linux kernel (0.01) is released to the Internet.
September 17 - 2011: The Occupy Wall Street movement begins in Zuccotti Park, New York City.
September 18 - 1997: The Anti-Personnel Mine Ban Convention is adopted.
September 18 - 2014: Scotland votes against independence from the United Kingdom, by 55% to 44%.
September 19 - 2007: The first Glastonbury Festival is held, at a farm belonging to Michael Eavis.
September 20 - 1973: Billie Jean King beats Bobby Riggs in the Battle of the Sexes tennis match at the Houston Astrodome.
September 20 - 2017: Hurricane Maria makes landfall in Puerto Rico as a powerful Category 4 hurricane, resulting in 2,975 deaths, US$90 billion in damage, and a major humanitarian crisis.
Would you have swapped any of the events above for any of the events chosen by the BBC?