When all the trees have been cut down
When all the animals have been hunted
When all the waters are polluted
When all the air is unsafe to breathe
Only then will you discover you cannot eat money.

Cree Saying
ddd December!
Function: Song
Words: 38
Duration: 1:48

Aim: Introduce the months of the year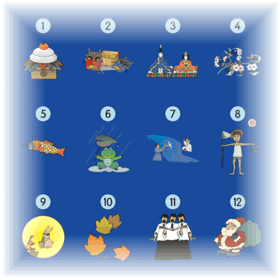 J-J-January
F-F-February
M-M-March
A-A-April
M-M-May
That's what I say
J-J-June
J-J-July
Au-au-August
S-S-September
O-O-October
N-N-November
D-D-D-D-D-D
December!
D-D-D-D-D-D
December!

(repeat)
Usage
English Months of the year can be tricky for young learners of English to remember. The first step is to get them to know the name of their birthday month. This can be done using a calendar. Then listen to the song and when someone hears their birthday month they jump. There is an interlude in the middle where months can be called out randomly. After this children can be encouraged to dance to the song and jump and call out their birthday month. Then build up to singing the whole song.
Follow-Up
Play the Months and Seasons Version of Maze Challenge or the Months of the Year Board Game.
Notes:
There's a video version on YouTube
getfiles: DDD December!