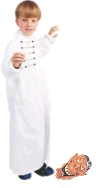 The only thing that makes life possible is permanent, intolerable uncertainty: not knowing what comes next.
Ursla Le Guin (1929-2018)
The Left Hand of Darkness, 1969
This Week in History:
June 1st - 5th
Test yourself:
Press the buttons to reveal the answers.
1
What happened in 1985 following the Heysel Stadium tragedy?
UEFA banned English football clubs from playing in Europe.
2
What was the album of the century and when was it released?
Sgt. Peppers Lonely Hearts Club Band was released in 1967.
3
Who died in 2016 at what age?
Muhammad Ali died aged 74.
4
Who shot whom in 1968?
Sirhan Sirhan shot Senator Robert Kennedy.
5
Why and when did the great guns fire?
They fired for the crowning of Queen Elizabeth II in 1953.
What the BBC ignored:
June 1 - 1962: Adolf Eichmann is hanged in Israel
June 1 - 1990: George H. W. Bush and Mikhail Gorbachev sign a treaty to end chemical weapon production
June 1 d- 2015: Cruise Ship Eastern Star sinks in the Yangstze river killing over 400
June 2 - 1962: During the 1962 World Cup police intervene in the match between Chile and Italy: one of the most violent games in Football's history
June 2 - 1979: Pope John Paul II becomes the first Pope to visit a Communist country
June 3 - 1991: Mount Unzen erupts in Kyūshū, Japan, killing 43 people
June 3 - 2017: Islamic terrorists murder 8 people and wound dozens more in the London Bridge Attack
June 4 - 1970: Tonga gains independence from the United Kingdom.
June 4 - 1989: A natural gas explosion near Ufa, Russia, kills 575 as two trains passing each other
June 5 - 1989: An unidentified man halts a column of tanks during the Tiananmen Square protests
June 5 - 2004: Ronald Reagan dies aged 93
Would you have swapped any of the events above for any of the events chosen by the BBC?