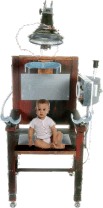 I am somehow less interested in the weight and convolutions of Einstein's brain than in the near certainty that people of equal talent have lived and died in cotton fields and sweatshops.
Stephen Jay Gould (1941-2002)
This Week in History:
June 1st - 5th
Test yourself:
Press the buttons to reveal the answers.
1
What happened in 1985 following the Heysel Stadium tragedy?
UEFA banned English football clubs from playing in Europe.
2
What was the album of the century and when was it released?
Sgt. Peppers Lonely Hearts Club Band was released in 1967.
3
Who died in 2016 at what age?
Muhammad Ali died aged 74.
4
Who shot whom in 1968?
Sirhan Sirhan shot Senator Robert Kennedy.
5
Why and when did the great guns fire?
They fired for the crowning of Queen Elizabeth II in 1953.
What the BBC ignored:
June 1 - 1962: Adolf Eichmann is hanged in Israel
June 1 - 1990: George H. W. Bush and Mikhail Gorbachev sign a treaty to end chemical weapon production
June 1 d- 2015: Cruise Ship Eastern Star sinks in the Yangstze river killing over 400
June 2 - 1962: During the 1962 World Cup police intervene in the match between Chile and Italy: one of the most violent games in Football's history
June 2 - 1979: Pope John Paul II becomes the first Pope to visit a Communist country
June 3 - 1991: Mount Unzen erupts in Kyūshū, Japan, killing 43 people
June 3 - 2017: Islamic terrorists murder 8 people and wound dozens more in the London Bridge Attack
June 4 - 1970: Tonga gains independence from the United Kingdom.
June 4 - 1989: A natural gas explosion near Ufa, Russia, kills 575 as two trains passing each other
June 5 - 1989: An unidentified man halts a column of tanks during the Tiananmen Square protests
June 5 - 2004: Ronald Reagan dies aged 93
Would you have swapped any of the events above for any of the events chosen by the BBC?