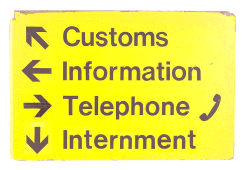 There is a bird in a poem by T. S. Eliot who says that mankind cannot bear very much reality; but the bird is mistaken. A man can endure the entire weight of the universe for eighty years. It is unreality that he cannot bear.
Ursla Le Guin (1929-2018)
The Lathe of Heaven, 1971
This Week in History:
July 14th - 19th
Test yourself:
Press the buttons to reveal the answers.
1
Exactly where and when was Gianni Versace shot dead?
On July 15 1997 on the steps of his mansion in South Beach, Miami.
2
What collapsed and why in 1984?
Fairy Penguins over-indulged on pilchards and many could barely stand.
3
What did Parisians celebrate in 1989 and when did it happen?
The storming of the Bastille prison in 1789.
4
What is Broadway traditionally called and what happened to it in 1977?
The Great White Way suffered a blackout due to a massive power failure.
5
Which three countries were hit by the worst floods of the century in 1997? Poland, Germany and the Czech Republic
What the BBC ignored:
July 13 - 1985: The Live Aid benefit concert takes place in London, Philadelphia and other World cities.
July 14 - 2016: A Jihadist inspired terrorist drives a truck into A crowd celebrating Bastille Day in Nice killing 86 and injuring 458
July 15 - 2006: Twitter is launched
July 16 - 1945: The first ever nuclear bomb is detonated in the Trinity test, part of the Manhattan project
July 17 - 2014: Malaysia Airlines Flight 17 is shot down over the Ukraine by a Russian made Buk missile killing all 283 passengers and 15 crew on board
July 18 - 1981: 268 Guatemalan campesinos are abused and murdered by the Guatemala army and paramilitaries in the Plan de Sánchez massacre
July 19 - 1943: Rome is bombed by 521 Allied Planes, thousands of civilians are killed
Would you have swapped any of the events above for any of the events chosen by the BBC?