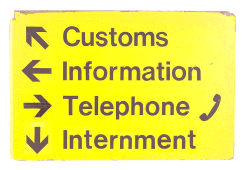 I do not want the peace which passeth understanding, I want the understanding which bringeth peace.
Helen Keller (1880-1968)
This Week in History:
May 11th - 14th
Test yourself:
Press the buttons to reveal the answers.
1
Who did Mehmet Ali Hagca try to kill and when?
Pope John Paul II in 1981
2
What was the nickname of former Gestapo chief Klause Barbie?
The Butcher of Lyon
3
Who was sentenced to jail for kidnapping and for how long?
Winnie Mandela for 6 years
4
How big was the 2008 earthquake and where did it strike?
A 7.8 magnitude earthquake hit Sichuan province, South West China
5
What beat whom at what in 1997?
The computer Deep Blue beat Gary Kasparov at chess
6
What was legalised where in 2004?
Same-sex marriages in Massachusetts
Notes:
There's a BBC mini-feature on YouTube featuring earthquake tourism in Sichuan.
Gary Kasparov talks about artificial intelligence on BBC Click. See this on YouTube.