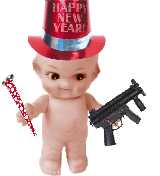 Every man is guilty of all the good he didn't do.
Voltaire (1694-1778)
This Week in History:
May 18th - 23rd
Test yourself:
Press the buttons to reveal the answers.
1
Fans of which two teams fought in 1985?
Liverpool and Juventus
2
How many people took part in what 1986 event?
30 million people took part in Sports Aid.
3
What came to an end in 2011 after how many years and episodes?
The Oprah Winfrey show after 25 years and 4,500 episodes
4
What did people queue for, when and at what time?
To see the first Star Wars film in 1977 from 7 am.
5
Who died in 1964 at what age?
Jawaharlal Nehru aged 74
6
Who left what in 1998?
Geri Halliwell (Ginger) left the Spice Girls
What the BBC ignored:
May 25 - 1961: President Kennedy launches the Apollo Program with the intention of putting a man on the moon
May 25 - 1969: Ameican Airlines Flight 191 crahses in Chicargo killing 273 people
May 25 - 1982: HMS Conventry is sunk during the Falkands War.
May 26 - 2003: The United States and Soviet Union sign the Anti-Ballistic Missile Treaty
May 27 - 1968: President Obama becomes teh first US president to visit Hiroshima Memorial Peace Park
May 28 - 1987: 18 year old pilot Mathias Rust evades Soviet air defences to land in Red Square, Moscow
May 29 - 1987: Edmund Hillary and Sherpa Tenzing Norgay become the first people to reach the summit of Mount Everest
May 30 - 1987: The Convention banning cluster bombs is adopted
May 31 - 1987: The Ancash Earthquake strikes Peru killing over 66,000 people
Would you have swapped any of the events above for any of the events chosen by the BBC?