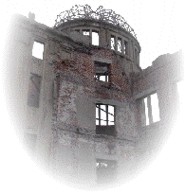 When all the trees have been cut down
When all the animals have been hunted
When all the waters are polluted
When all the air is unsafe to breathe
Only then will you discover you cannot eat money.

Cree Saying
This Week in History:
April 12th - 15th
Test yourself:
Press the buttons to reveal the answers.
1
What caused angry protests in Indonesia and when?
The publication of Playboy magazine in 2006
2
What did Yuri Gagarin achieve and when?
In 1961 he became the first man in space.
3
What happened in 1968?
Students clashed with police in West Berlin.
4
What sank and when?
The Titanic in 1912
5
Who died and at what age?
Pol Pot, aged 72
6
Who set a new women's marathon world record and when?
Paula Radcliffe in 2003
Notes:
No mention is made of the US bombing of Cambodia and the US support given to the Khmer Rouge. Read the Jacobin article Nixon and the Cambodian Genocide.
1968 was a year of revolt worldwide.
What value do world records really hold?