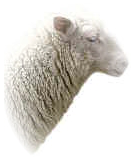 The saddest aspect of life right now is that science gathers knowledge faster than society gathers wisdom.
Isaac Asimov (1920- 1992)
Letter From A Morlock
Long long ago
We used to have snow
We used to have snow
At Christmas

Ages now deceased
We used to have peace
We used to have peace
At Christmas

Time long gone
We never dropped bombs
We never dropped bombs
At Christmas

In the past I swear
We had food to share
We had food to share
At Christmas

Long in the past
We thought it would last
We thought it would last
At Christmas
Notes:
The title of this unfinished song comes from one of the two races created by H. G. Wells in his book The Time Machine. The other race are the Eloi. The Eloi live a life of idle on the earth's surface. The Morlocks live underground and run machines that they probably don't understand. Both live in the far future and are the descendants of human beings, though separate species. The Morlocks look after the Eloi and eat them.
The idea of a Morlock reminiscing on Christmas is completely anachronistic. Unless, one considers that a future where humanity has torn itself apart isn't so far away.
Some when perhaps I'll be able to do the music to go with the words. Some when.