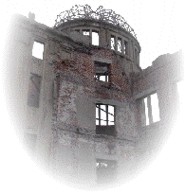 Strike against war, for without you no battles can be fought. Strike against manufacturing shrapnel and gas bombs and all other tools of murder. Strike against preparedness that means death and misery to millions of human beings. Be not dumb, obedient slaves in an army of destruction. Be heroes in an army of construction.
Helen Keller (1880-1968)
Strike Against War
Speech at Carnegie Hall, January 5, 1916
This Week in History:
August 17th - 21st
Test yourself:
Press the buttons to reveal the answers.
1
Who did something wrong and what was it?
President Clinton had an affair with Monica Lewinsky.
2
How many people were killed on 17 August 1990 and in which country? 97 in South Africa
3
Why and in which year did people shout "Czechoslovakia must be free"?
Because the Soviet Union invaded Czechoslovakia in 1968.
4
Who died in 2000 and where?
118 Russian submariners died aboard the Kursk.
5
How many people saw the Pope give mass in which town?
2.5 million in the Pope's home town of Krakow in Poland
6
How many people saw the Pope give mass in which town?
2.5 million in the Pope's home town of Krakow in Poland
What the BBC ignored:
August 17 - 1945: George Orwell's novella Animal Farm is published for the first time.
August 17 - 2005: Around 500 bomb explosions occurred at 300 locations in 63 out of the 64 districts of Bangladesh killing 2 people and injuring 115
August 18 - 1977: Steve Biko is arrested at a police roadblock in King William's town, South Africa
August 19 - 1980: 301 people are killed from smoke inhalation at King Khalid International Airport, Riyahd when a Lockheed L-1011 Tristar burns shortly after making an emergency landing.
August 19 - 2003: Suicide attack on a bus in Jerusalem, Israel, planned by Hamas, kills 23 Israelis, seven of them children, in the Shmuel HaNavi bus bombing.
August 20 - 1960: Senegal declares independence after breaking away from the short-lived Mali Federation.
August 20 - 2014: 72 people are killed by landslides in Hiroshima Prefecture after a month's rain falls in a single day.
August 21 - 1988:  A severe earthquake (Mercalli Intensity 7) strikes the Nepal-India border killing over 700 people and injuring thousands.
Would you have swapped any of the events above for any of the events chosen by the BBC?