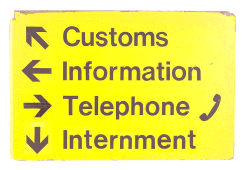 Voice or no voice, the people can always be brought to the bidding of the leaders. That is easy. All you have to do is tell them they are being attacked and denounce the pacifists for lack of patriotism and exposing the country to danger. It works the same way in any country.
Hermann Goering (1893-1946)
said to Gustav Gilbert at the Nuremburg Trials
This Week in History:
June 15th - 21st
Test yourself:
Press the buttons to reveal the answers.
1
For how long did South African law class citizens by race?
40 years
2
How did the South African government end Apartheid in 1991?
It abolished the Population Registration Act
3
What did Valentina Tereshkova achieve and in which year?
In 1963 she became the first woman to go into space.
4
What was devastated by what and where in 1996?
A busy shopping area in Manchester was devastated by an IRA bomb.
5
What was moved and from where by a 1991 Bundestag vote?
The capital of reunified Germany was moved from Bohn to Berlin.
6
When was Prince William born? Ignore the sound track!
21 June 1982
Notes:
The visuals and sound track regarding the IRA bomb implie carnage. In actuality more than 200 people were injured but there were no fatalities. At 1,500 kilos it was the largest bomb to explode in mainland Britain since World War II.
What the BBC ignored:
June 15 - 1977: The first democratic elections following the death of dictator Francisco Franco takes place in Spain
June 15 - 1992: The US Supreme Court rules the United States has the right to kidnap (forcibly extradite) wanted individuals from other countries without permission
June 16 - 2000: Israel complies with UN Security Council resolution 542 and with draws from Lebanon 22 years late.
June 16 - 2010: Bhutan becomes the first country to institute a total ban on tobacco
June 17 - 1944: Iceland declares independence from Denmark
June 17 - 2015: 9 African Americans are shot dead by white supremacist Dylann Roof at the Emanuel African Methodist Episcopal Church, Charleston
June 18 - 1953: The Arab Republic of Egypt is declared following the 1952 revolution
June 18 - 1953: A USAF C-124 crashes and burns near Tachikawa, Japan, killing all 129 on board
June 18 - 1994: The Ulster Volunteer Force attacks a pub in Loughinisland killing six and wounding five gathered to watch the 1994 World cup
June 19 - 1953: Julius and Ethel Rosenberg are hanged for espionage
June 19 - 1961: Kuwait declares its independence from Britain
June 19 - 1978: Garfield (the world's most widely syndicated comic strip) makes its debut
June 19 - 1991: The Soviet Occupation of Hungry ends
June 20 - 1975: Jaws is released and becomes the first "summer blockbuster"
June 20 - 1975: The Wikimedia Foundation is incorporated"
June 21 - 1975: Three civil rights workers, Andrew Goodman, James Chaney and Mickey Schwerner, are murdered in Mississippi by members of the Ku Klux Klan"
June 21 - 1975: The US Supreme Court rules that flag burning is an act of free speech and therefore protected by the first amendment"
Would you have swapped any of the events above for any of the events chosen by the BBC?