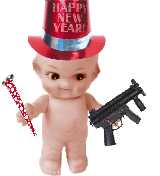 Communities have always recognized two things. First, that which we need for survival should never belong to an individual. It should be the common wealth. Second, it should be managed as the common wealth. Therefore, community structures of responsibilities have to be put in place.
Vandana Shiva
Water Wars
Don't!
Function: Activity
Words: 9
Duration: 1:00


Aim: Introduce a key control word
Don't!
Don't!
Don't!
Don't!
Don't!
Don't!

Don't! Don't! Don't!
Usage
Have the children sit down.
Pick up some object (an inflatable plastic club or hammer is ideal) with which to menace the children. Start the track.
Slowly move to hit someone but upon hearing the word "Don't" stop and look sheepish/guilty.
Keep threatening the children but fail to hit anyone. React to the soundtrack and especially to anyone who says, "Don't!"
Follow-Up
Threaten the children and see if any of them will say, "Don't!" Try hitting yourself and see if anyone will say "Don't!"
Play Don't Move!
Notes:
This is a very important concept for children to understand and respect. Teachers as well.
getfile: Don't!