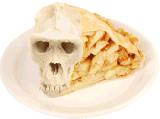 I believe that unarmed truth and unconditional love will have the final word in reality.
Martin Luther King (1957-1968)
Nobel Peace Prize acceptance speech, 1964
2019 Spelling Bee
Recorded: May 30th, 2019
Notes:
Normal speed. The three words the video focuses on are parochialism, horripilation and kentledge. Perhaps the producers had a certain someone in mind. MAGA today cataclysm tomorrow. The 2018 champion, Karthik Nemmani, spent 36 hours a week studying for the competition. Ouch!