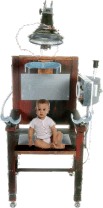 I talk about the gods, I am an atheist. But I am an artist too, and therefore a liar. Distrust everything I say. I am telling the truth.
Ursla Le Guin (1929-2018)
The Left Hand of Darkness, 1969
2019 Spelling Bee
Recorded: May 30th, 2019
Notes:
Normal speed. The three words the video focuses on are parochialism, horripilation and kentledge. Perhaps the producers had a certain someone in mind. MAGA today cataclysm tomorrow. The 2018 champion, Karthik Nemmani, spent 36 hours a week studying for the competition. Ouch!