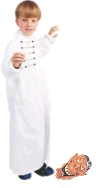 Strike against war, for without you no battles can be fought. Strike against manufacturing shrapnel and gas bombs and all other tools of murder. Strike against preparedness that means death and misery to millions of human beings. Be not dumb, obedient slaves in an army of destruction. Be heroes in an army of construction.
Helen Keller (1880-1968)
Strike Against War
Speech at Carnegie Hall, January 5, 1916
This Week in History:
April 19th - 24th
Test yourself:
Press the buttons to reveal the answers.
1
How many people died in the Columbine shooting?
Fifteen
2
What did Discovery carry into space and how did the narrator describe it?
The Hubble telescope - our window on the universe
3
Which country had severe flooding and when?
Australia in 1990
4
Who did Prince Rainer of Monaco marry and when?
Grace Kelly in 1956
5
Who died in 1994, where and at what age?
Richard Nixon in New York aged 81
Notes:
According to the San Diego Union-Tribune Columbine now doesn't even make the list when it comes to the 10 worst incidents of gun violence in US schools. The Washington Post explains that most school shootings are targeted and over in seconds. So much for arming teachers.