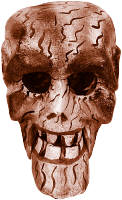 Animals have these advantages over man: they never hear the clock strike, they die without any idea of death, they have no theologians to instruct them, their last moments are not disturbed by unwelcome and unpleasant ceremonies, their funerals cost them nothing, and no one starts lawsuits over their wills.
Voltaire (1694-1778)
This Week in History:
April 8th - 10th
Test yourself:
Press the buttons to reveal the answers.
1
At London airport how many people died and how many survived?
5 died and 121 survived
2
What did thousands gather for and when?
Martin Luther King's funeral in 1968
3
What toppled and when?
Saddam Hussein's statue in 2003
4
Where was there a political deal and when?
Northern Ireland in 1998
5
Who died and at what age?
Picasso, aged 91
Notes:
The footage from Baghdad is iconic and false - a good example of fake news, that is news that misrepresents events and buries other news of greater signigicance.
Here's a link to an article from the Atlantic which explains why.
There's also a video on YouTube.