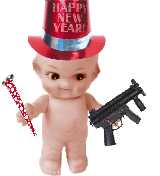 Depopulation should be the highest priority of foreign policy towards the third world, because the US economy will require large and increasing amounts of minerals from abroad, especially from less developed countries.
Henry Kissinger
Happy New Year

The 1948 comdedy classic about New Year Resolutions by Spike Jones and his City Slickers in song strip format.
Zodiac Puzzles

A new decade and a new Zodiac cycle. To start the year off here's a crossword without clues (save one), It goes squeak!
There are a 150 plus pages on this site but if none are to your liking then...
LinkAway:
Or Click the wheel below to leave this site!