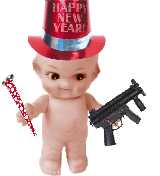 Why should they ask me to put on a uniform and go 10,000 miles from home and drop bombs and bullets on Brown people in Vietnam while so-called Negro people in Louisville are treated like dogs and denied simple human rights? ...If I thought the war was going to bring freedom and equality to 22 million of my people they wouldn't have to draft me, I'd join tomorrow. I have nothing to lose by standing up for my beliefs. So I'll go to jail, so what? We've been in jail for 400 years.
Muhammed Ali (1942-2016)
Halloween 2019 How Now
Video Quiz
Question List:
How many happy ghosts?
How many winking owls?
How many slow zombies?
How many scared skeletons?
How many teeny tiny vampires?
How many angry bats?
How many seven legged spiders?

Notes:
This video was created for the 2019 Wise Hat Halloween parties for elementary school aged children and younger. Running time: a little over 10 minutes.