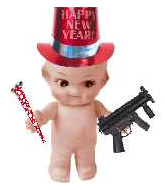 I do not want the peace which passeth understanding, I want the understanding which bringeth peace.
Helen Keller (1880-1968)
2018-06-13: Wednesday
C.R.V.I.D.
Complete Reciprocal Verifiable Irreversible Denuclearisation
The United States, Russia, China, the United Kingdom, France, India, Pakistan, Israel and North Korea - come on down! Follow South Africa's lead!