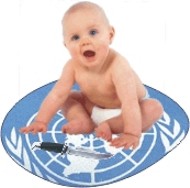 Why should they ask me to put on a uniform and go 10,000 miles from home and drop bombs and bullets on Brown people in Vietnam while so-called Negro people in Louisville are treated like dogs and denied simple human rights? ...If I thought the war was going to bring freedom and equality to 22 million of my people they wouldn't have to draft me, I'd join tomorrow. I have nothing to lose by standing up for my beliefs. So I'll go to jail, so what? We've been in jail for 400 years.
Muhammed Ali (1942-2016)
Say and Circle
This is a kind of pair vocabulary bingo game. It works as follows:
Tell the students they are one team but that they will play in pairs.
Use the current seating arrangement to make pairs or make pairs randomly.
Each pair receives a sheet and 2 pens (same colour for all players is best).
Make sure all pairs are using the word side of the sheet.
Set a timer to 20 seconds, show the players the time limit and then start the clock!
Players now take turns first saying a word and then circling it and the corresponding picture.
When time is up the pair turn the sheet over and have another 20 seconds to say and circle the pictures alone.
That completes the first round. Players make new pairs and the process repeats.
After 3-4 rounds the game is over. Players tally the bingos for the sheet they currently have. Score 1 point for a horizontal bingo and 2 points for a vertical bingo. To count as a bingo every word in the line must be circled.
Tot up the total number of bingos for the class and keep a record as desired.
Notes:
We laminate our sheets and use marker pens and a transparent plastic cover for each sheet. This way we can use the sheets over and over again. We have twelve sheets in all with words at different vocabulary reading levels. These can be made available on request.
With an odd number of students either the teacher takes part or a group of three is made.
It is important to establish correct etiquette when introducing this game. Players must take turns. It is fine to help a partner by pointing at pictures and the teacher may allow partners to whisper words to each other.
An alternative to players forming new pairs each round is for players to stay in the same pairs and rotate the sheets. This saves time but misses out on the possibility of different players being able to share their knowledge of different words.
Word Lists levels 1-4
L1: White
ant
bag
bat
bed
bin
box
bun
bus
can
cat
cot
cub
cup
cut
dig
din
dog
dot
egg
elf
fan
fax
fin
fog
fox
fun
gum
ham
hat
hen
hit
hop
hot
hug
hut
imp
ink
jam
jet
jog
jug
keg
leg
lid
lip
log
mad
mix
mud
net
nod
nut
pen
pet
pig
pin
pot
rat
red
rod
rub
run
sad
sit
sob
sub
sun
ten
top
van
vet
wax
web
wet
wig
wok
yak
yen
zip
zit
L2: Red
band
bank
belt
bend
blip
blob
brag
bulb
camp
clap
clip
club
crab
desk
disk
drag
drop
drum
dust
fist
flag
flap
fret
frog
gift
glum
golf
grin
grip
grub
hand
helm
help
hump
jump
kilt
lamp
mask
melt
milk
nest
pink
plug
plum
pond
prop
pump
quiz
raft
ramp
rest
sand
scan
sink
skip
sled
slip
slot
slug
smog
snap
snot
spin
spit
spot
step
stop
swim
tank
tent
test
tram
trap
trek
trip
twig
twin
weld
wind
wink
L3: Orange
album
anvil
back
bang
baton
bell
blank
blimp
blink
brand
buzz
cabin
camel
clamp
cramp
crest
crust
cuff
deck
doll
drink
duck
dung
flask
frisk
frost
gang
gong
hang
heron
hill
index
jack
kick
king
kiss
lemon
lick
lock
melon
muff
neck
opera
panda
pill
plank
plant
prank
print
puck
puff
quilt
ring
rock
sack
salad
scrub
sick
sing
skunk
sling
sock
split
squid
stamp
stand
sting
stink
strap
strip
stump
suck
tell
trunk
twist
wagon
well
wing
yell
zebra
L4: Yellow
abacus
animal
arm
attic
banana
bandit
bar
bath
black
bobcat
brass
brick
cactus
camera
canvas
car
chat
chin
chip
chop
cliff
cling
clock
crack
crisps
cross
discus
dish
dragon
dress
drill
fish
flick
fluff
forest
fur
glass
goblet
goblin
grass
grill
hotdog
inkpad
insect
jar
laptop
moth
napkin
orb
orc
path
picnic
piglet
press
quack
quick
rich
sash
shed
ship
shop
skull
sniff
spell
spill
spirit
sprint
stack
staff
stamps
swing
thin
track
troll
truck
urn
when
whip
wish
zigzag