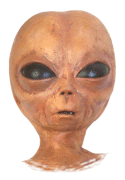 I do not agree that the dog in a manger has the final right to the manger even though he may have lain there for a very long time. I do not admit that right. I do not admit for instance, that a great wrong has been done to the Red Indians of America or the black people of Australia. I do not admit that a wrong has been done to these people by the fact that a stronger race, a higher-grade race, a more worldly wise race to put it that way, has come in and taken their place.
Winston Churchill (1874-1965)
To the Peel Commission, 1937
This Week in History:
March 28th - April 2nd
Test yourself:
Press the buttons to reveal the answers.
1
What opened and when?
The Eiffel Tower in 1889
2
When and where was there a nuclear accident?
At Three-Mile Island, Pennsylvania in 1979
3
Which country did what in 2004?
The Republic of Ireland banned smoking in public.
4
Who died and at what age?
Pope John Paul II aged 84
5
Who was shot and when?
US President Ronald Reagan in 1981
Notes:
Three Mile Island rated 5 on International Nuclear Event Scale. Chernobyl and Fukushima both rated 7 but Three Mile Island was perhaps 100 times less serious than Fukushima. The plant is due to close in 2019 due to the high costs of operating the plant.