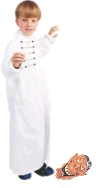 Why should they ask me to put on a uniform and go 10,000 miles from home and drop bombs and bullets on Brown people in Vietnam while so-called Negro people in Louisville are treated like dogs and denied simple human rights? ...If I thought the war was going to bring freedom and equality to 22 million of my people they wouldn't have to draft me, I'd join tomorrow. I have nothing to lose by standing up for my beliefs. So I'll go to jail, so what? We've been in jail for 400 years.
Muhammed Ali (1942-2016)
This Week in History:
March 28th - April 2nd
Test yourself:
Press the buttons to reveal the answers.
1
What opened and when?
The Eiffel Tower in 1889
2
When and where was there a nuclear accident?
At Three-Mile Island, Pennsylvania in 1979
3
Which country did what in 2004?
The Republic of Ireland banned smoking in public.
4
Who died and at what age?
Pope John Paul II aged 84
5
Who was shot and when?
US President Ronald Reagan in 1981
Notes:
Three Mile Island rated 5 on International Nuclear Event Scale. Chernobyl and Fukushima both rated 7 but Three Mile Island was perhaps 100 times less serious than Fukushima. The plant is due to close in 2019 due to the high costs of operating the plant.