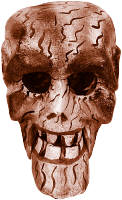 Why should they ask me to put on a uniform and go 10,000 miles from home and drop bombs and bullets on Brown people in Vietnam while so-called Negro people in Louisville are treated like dogs and denied simple human rights? ...If I thought the war was going to bring freedom and equality to 22 million of my people they wouldn't have to draft me, I'd join tomorrow. I have nothing to lose by standing up for my beliefs. So I'll go to jail, so what? We've been in jail for 400 years.
Muhammed Ali (1942-2016)
This Week in History:
May 11th - 14th
Test yourself:
Press the buttons to reveal the answers.
1
Who did Mehmet Ali Hagca try to kill and when?
Pope John Paul II in 1981
2
What was the nickname of former Gestapo chief Klause Barbie?
The Butcher of Lyon
3
Who was sentenced to jail for kidnapping and for how long?
Winnie Mandela for 6 years
4
How big was the 2008 earthquake and where did it strike?
A 7.8 magnitude earthquake hit Sichuan province, South West China
5
What beat whom at what in 1997?
The computer Deep Blue beat Gary Kasparov at chess
6
What was legalised where in 2004?
Same-sex marriages in Massachusetts
Notes:
There's a BBC mini-feature on YouTube featuring earthquake tourism in Sichuan.
Gary Kasparov talks about artificial intelligence on BBC Click. See this on YouTube.