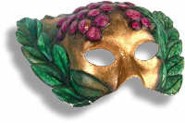 Voice or no voice, the people can always be brought to the bidding of the leaders. That is easy. All you have to do is tell them they are being attacked and denounce the pacifists for lack of patriotism and exposing the country to danger. It works the same way in any country.
Hermann Goering (1893-1946)
said to Gustav Gilbert at the Nuremburg Trials
Jungle Glass
Function: Song
Words: 0
Duration: 1:00


Aim: None - BGM for activities, timing events or just to enjoy
A refreshing alternative to using a timer for an activity is to use a specific piece of background music. Depending upon the activity music can encourage participation. It also gives feedback to the participants about remaining time in a way that the dead silence of a timer does not..