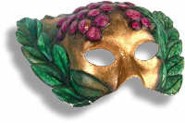 This business of burning human beings with napalm, of filling our nation's homes with orphans and widows, of injecting poisonous drugs of hate into the veins of peoples normally humane, of sending men home from dark and bloody battlefields physically handicapped and psychologically deranged, cannot be reconciled with wisdom, justice, and love.
Martin Luther King (1957-1968)
Beyond Vietnam - A Time to Break Silence, 1967
Jungle Glass
Function: Song
Words: 0
Duration: 1:00
Aim: None - BGM for activities, timing events or just to enjoy
A refreshing alternative to using a timer for an activity is to use a specific piece of background music. Depending upon the activity music can encourage participation. It also gives feedback to the participants about remaining time in a way that the dead silence of a timer does not..