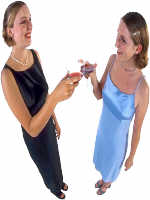 Why should they ask me to put on a uniform and go 10,000 miles from home and drop bombs and bullets on Brown people in Vietnam while so-called Negro people in Louisville are treated like dogs and denied simple human rights? ...If I thought the war was going to bring freedom and equality to 22 million of my people they wouldn't have to draft me, I'd join tomorrow. I have nothing to lose by standing up for my beliefs. So I'll go to jail, so what? We've been in jail for 400 years.
Muhammed Ali (1942-2016)
This Week in History:
August 27th - 30th
Test yourself:
Press the buttons to reveal the answers.
1
What happened exactly 45 years after Martin Luther King said, "I have a dream"?
Barack Obama accepted the presidential nomination of a major party.
2
What came close to the Earth in 2003 and after how long?
Mars after 60,000
3
Where did free and democratic elections take place and in what year?
East TImor in 2001
4
What struck the Gulf Coast of the United States and in what year?
Hurricane Katrina in 2005
5
What was out of action and for how long?
Big Ben for 3 weeks
What the BBC ignored:
August 27 - 1928: The Kellogg–Briand Pact outlawing war is signed by fifteen nations.
August 27 - 1979: Retired Admiral Lord Mountbatten is assassinated on his boat by an IRA bomb
August 27 - 2011: Hurricane Irene strikes the United States east coast, killing 47 and causing an estimated $15.6 billion in damage
August 28 - 2011: 10,000 demonstrators face off against 23,000 police during the Democratic National Convention in Chi cargo, live on TV
August 29 - 1966: The Beatles perform their last concert before paying fans at Candlestick Park in San Francisco.
August 29 - 2011:  Netflix is launched as an internet DVD rental service.
August 30 - 1974: 8 people are killed when the ultra-leftist EAAJAF bomb the Mitsubishi Heavy Industries headquarters in Tokyo
Would you have swapped any of the events above for any of the events chosen by the BBC?