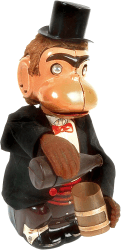 Animals have these advantages over man: they never hear the clock strike, they die without any idea of death, they have no theologians to instruct them, their last moments are not disturbed by unwelcome and unpleasant ceremonies, their funerals cost them nothing, and no one starts lawsuits over their wills.
Voltaire (1694-1778)
Brainwave
Step out of one activity by apparently having a sudden great idea. Physically demonstrate an "a ha!" moment. Do a new activity and then when it is over suddenly remember to return to the original activity and pick up where you left off.
Rationale
There are lots of uses for this technique. Sometimes when introducing a new concept time is required before the idea clicks. Switching to another activity in this way allows one to give time without anyone thinking you are giving up or the idea is too difficult to get.
A Brainwave can also help you to change the energy level of a class by allowing an immediate switch of activities. It can also help you to introduce an idea in a variety of ways.
It can also be used to regain focus for a group.
Notes
You can have a brainwave while doing any kind of activity. It can even be used to break reading a story. Ideally there should be some kind of connection between the point at which you have a brainswave and the new activity. but it is not essential.
It is important that the brainwave is obvious, otherwise the change of activities might be confusing. Accordingly it is useful and fun to develop a complete performance. For example, click fingers, tap forehead with index finger, gradually smile, talk to oneself and so on.