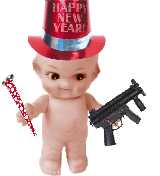 If you want your writing to be taken seriously, don't marry and have kids, and above all, don't die. But if you have to die, commit suicide. They approve of that.
Ursla Le Guin (1929-2018)
Prospects for Women in Writing, speech Portland, 21986
2018-06-01: Friday
Quote for a day
Just because a thing is difficult to do doesn't mean it's worth doing.
Wise Hat
Putting a man on the moon
Sending a human to Mars
Carbon capture
Undersea Mining
Getting Donald Trump to apologise
Fighting World War Three
What would you add?