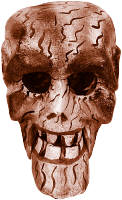 Injustice anywhere is a threat to justice everywhere.
Martin Luther King (1957-1968)
letter from Birmingham city jail, 1963
Zodiac Puzzles
Get your thinking hats on! A wordchain puzzle is like a crossword without the clues. Instead the words are know or can easily be guessed. The challenge is to work out which word goes where.
As an example, take a closer look at the picture to the right. There are twelve words. First students write the words using the pictures as clues. Then place the words into the chain. The way to do this is to find words with a unique number of letters and put those in first.
The 12 words in the Japanese Zodiac puzzle in order are: rat, ox, tiger, rabbit, dragon, snake, horse, sheep, monkey, roosterm dog and boar. The list for the Chineze Zodiac is a little different: rat, ox, tiger, rabbit, dragon, snake, horse, goat, monkey, chicken, dog, pig.
There are two packs each with 12 different puzzles, that's 24 in all. Why not download one or both and give them a try. And if you do, please be sure to let me know how you get on.