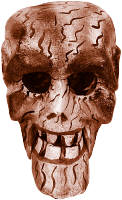 I do not agree that the dog in a manger has the final right to the manger even though he may have lain there for a very long time. I do not admit that right. I do not admit for instance, that a great wrong has been done to the Red Indians of America or the black people of Australia. I do not admit that a wrong has been done to these people by the fact that a stronger race, a higher-grade race, a more worldly wise race to put it that way, has come in and taken their place.
Winston Churchill (1874-1965)
To the Peel Commission, 1937
This Week in History
Historic events in Ireland and East Timor plus two funerals and the first Briton in space. The week that was May 18th to May 23rd, at least according to the BBC.
Splog!

Launching the Wise Hat Diary. From mind to meme. What I want remembered after I'm long forgotten...
Current: Papa Dragon - fight the powers that be
Dumb Insolence

A poem by Adrian Mitchell in songstrip format. Complete with a pseudo-lesson plan. Don't get done - think sick.
The Nakba in Numbers
May 15th saw the 70th anniversay of the Nakba when thousands of Palestinians were driven from their homes by a combination of war, terrorism and British disdain. Here's a worksheet.
Beyond War?
As the United States and its allies in the region get ready for an attack on Iran here is a timely article from 2003. Actively reject war in all its form now!
Click the wheel below to leave this site!