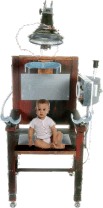 Freedom is a heavy load, a great and strange burden for the spirit to undertake. It is not easy. It is not a gift given, but a choice made, and the choice may be a hard one.
Ursla Le Guin (1929-2018)
The Left Hand of Darkness, 1969
Abnormal service may be resumed whenever...
Or Click the wheel below to leave this site!